At last Sparkling Forest has returned home. The work has been traveling with the exhibition Seasonal Palette, an exhibition sponsored by Studio Art Quilt Associates was shown in 11 venues including in Taiwan and Brazil. Marianne Williamson was one of 37 artists selected to capture a season using light, texture, color and masterful design.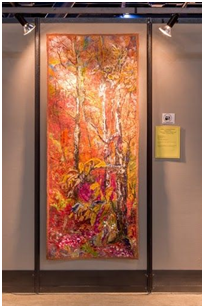 Figure 1  Sparkling Forest, 78" X 32"
Sparkling Forest was exhibited at:
International Quilt Festival – Houston, November 1-4, 2012
Texas Quilt Museum, La Grange, Texas, January 10 – March 31, 2013
International Quilt Festival – Cincinnati, Ohio, April 2013
International Quilt Festival – Long Beach, California, July 2013
National Quilt Museum, Paducah, Kentucky, September 12 – December 2, 2013
The Original Creative Festival at the Sharonville Convention Center, Sharonville (Cincinnati), Ohio, June 12-14, 2014
Festival Internacional de Patchwork e Arts Afins, Curitiba, Brazil, August 27 – 30, 2014
New England Quilt Museum, Lowell, Massachusetts, April 5 – July 26, 2015
J. Wayne Stark Galleries at Texas A&M University – August 6-October 4, 2015
Taiwan International Quilt Exhibition 2016, National Tainan Living Art Center, Tainan City, Taiwan – April 30-May 29, 2016
Gerald R. Ford Museum, Grand Rapids, MI – July 11, 2016 through August 31, 2016
Also back in inventory is Butterfly Garden. This work has been traveling with Butterfly Whirl: Contemporary Quilt Art, a touring collection of twenty-six original works of art selected by Dr. Sandra Sider, curator of the Texas Quilt Museum. Butterfly Garden, a stunning work, " x m  " captures all the color of the garden setting off the majesty of the butterfly.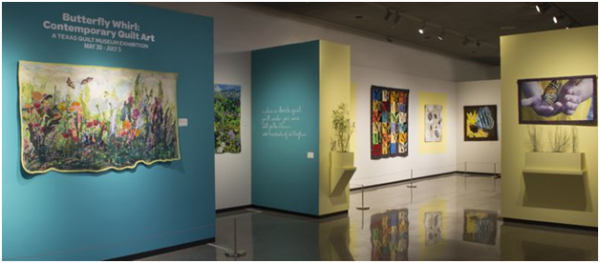 Butterfly Garden was exhibited at the following locations:
Texas Quilt Museum, LaGrange, Texas from April 3-June 29, 2014
National Butterfly Center, Mission, Texas, September 6, 2014 –January 11, 2015
Arizona-Sonora Desert Museum Tucson AZ, May 30-July 5, 2015
New England Quilt Museum, Lowell, MA, May 5-July 10, 2016
We have just completed a second edition of Marianne R. Williamson: Textiles in Motion. This new edition includes all Marianne's previous works and those she completed in the last year. This is a wonderful compendium of Marianne's works. See the images of works that have traveled around the world. See something you love? Check with us to see if it is still available.
Marianne R. Williamson: Textiles in Motion is available through the SAQA.com store or from C. Dineen Ferrin Designs (cheryl@cdineenferrin.com) for $25 plus shipping and handling.